"My goal was within reach, all that remained was to open each and every sounding pipe"

"All in time sirrah. Yes, time. Unless you master it - it will master you."

Like many of those in the long-time Legacy of Kain fan community, I frequent Dark-Chronicle, Nosgothic Realm, The Lost Worldsand a few other devoted sites and I am a serial lurker on the major forums. Over the last few years I have made many changes and 'improvements' to this site and have collected a wealth of information related to the Legacy of Kain series. My goal is to completely overhaul this Wikia and fill out the many Wanted Pages, Stubs and Rewrites we have, until we have a page for every bit of significant information in the series and it meets the higher standards of the LOK community. I also intend on getting as many of the hardcore fans as possible to visit and help add to and maintain this site.
I also semi-automatically run bot User:Guardian Construct to help with housekeeping issues.
Anyone wishing to contact me can use my Talk Page or my email/live account Baziel.LoKWiki@hotmail.co.uk
....and anyone wishing to hear Kain saying "you have a message" when they get a text go here ;-)
[Legacy of Kain Wiki]
[Doctor Who Wiki]
[Memory Alpha Star Trek Wiki]
Updates, Stubs and Wanted Pages
[
edit
|
edit source
]
New pages or pages requiring updates and changes due to new information from upcoming title Nosgoth
Square Enix Europe
Chancellor of Meridian
Flesh-sculptors
Soul-wrights
Stalkers
Slayers
Devourers
Info relevant to this wiki, featured in Prima guides, manuals and games.
Intro Chapter 1: Welcome to Hell-Nosgoth Awaits
Part One: Chaos, Controls and Collectibles
Chapter 2: Seeking Revenge-The Story So Far...
Chapter 3: Nupraptor-The Journey Continues
Chapter 4: The Hunt for Malek-Malek of the Sarafan
Chapter 5: Find the Oracle-The Oracle of Nosgoth
Chapter 6: Vorador's Mansion-The Undead Warrior
Chapter 7: Threaten the Circle-On to Dark Eden
Chapter 8: Defeat Azimuth-The Great Cathedral
Chapter 9: Ottmar's Daughter-Jouney Through Time
Chapter 10: Stranded in Time-The Journey Continues
Chapter 11: The Vampire Purges-The Death of the Circle
Chapter 12: To the End-The Terrible Decision
Abilities, Power-Ups and Pick-Ups
[
edit
|
edit source
]
Locations and Weapons/Armors/Spells
[
edit
|
edit source
]
Flay Spirit Forge (nr Wolf form dungeon)
Implode Spirit Forge
Putresce Spirit Forge
Energy Bank Spirit Forge
Anti-Toxin Spirit Forge
Heart of Darkness Spirit Forge
Pentalich of Tarot Spirit Forge
Slow Time Spirit Forge
Devious Devices
(see Category: Blood Omen Enemies)
Waver state
-Rooms of Vorador's Mansion- (Vorador's Pantry/Torture Room/Library/Greath Hall)
Vampires :

Dumahim
Melchahim
Zephonim
Turelim
Rahabim
Basics/Combat (Soul Reaver)
Warp Gates
Fire
Wall Spikes
Sunlight
Water
Claws
Torches
Spears
Boulders
Urns
The Soul Reaver/Wraith Blade/Fire Reaver (Soul Reaver)
Phase Through Barriers (Phase Through Gates)
Wall Crawling (Scale Walls)
Force Projectile (Telekinetic Force Projectile)
Swim (Swimming)
Constrict
Sound Glyph
Stone Glyph
Force Glyph
Water Glyph
Sunlight Glyph
Fire Glyph
Souls
Eldritch Energy
Eldritch Energy Power Ups (Eldritch Prisms)
Health Power Ups (Triangulums)
Abyss/Lake of the Dead
Underworld (Elder's Lair)
Raziel's Clan Territory
Necropolis
Sanctuary of the Clans
Silenced Cathedral
Tomb of the Sarafan
Drowned Abbey
Human Citadel
Lighthouse
Ruined City of the Dumahim
Nupraptor's Retreat
Oracle's Cave
The Chronoplast
Sound Glyph Altar (renamed from 'Shrine' for consistency with SR1 manuals: UK and US)
Stone Glyph Altar
Force Glyph Altar
Water Glyph Altar
Sunlight Glyph Altar
Fire Glyph Altar
For those without as Prima Guide; much of the SR2 Prima infomation can be found on SR2 Online
all pretty much completed apart from some Terms
All 'distinct' content from guides added
BO1 Prima XRefs to be added:

[

edit

|

edit source

]
Blood Vial
Chained Humans
Collapse of the Pillars
Iron Armor
Mist
Nosgoth
Pillars
Soul Reaver
"Barmaid" NPC Class? (only appears twice, debug confirms a different class to other NPC's)
Unusable weapons? (Crossbow, Throwing Knives)
Locomotives? / Ships?
Church (The Den)
Underground Industrial Complex (The Den)
Power Chamber (Main Factory, Industrial Quarter)
Water wheel House (Canyons)

Smuggler's Warehouse (Canyons)
Eternal Prison Rooms? (Stair Room, Clock & Orrery Room, "Limbo" etc)
Beast's Chamber (Device)?
Mass's Chamber (Device)?
Central Marketplace (Wharves)?
Southern Docks (Wharves)?
Main Lighthouse (Wharves)?
Dock (Hylden City)?
Main Square (Hylden City)?
Infopost signage locations

[

edit

|

edit source

]
(locations currently unclear)
Cathedral hill (Upper City near Cathedral?)
Miridian way
Southgate road (Lower City near Southgate Tram square?)
Westgate road
=Businesses (mostly early levels)

[

edit

|

edit source

]
Unique:
Playhouse (playing Avenging Angels and The Village of the Insane)
Hill House
npoekt shop (Bmad lady)?
Tavern (Wharves-Bmad lady)?
VMinor Businesses (some with multiple outlets):
Groeser & Sons Co/Municipal Bank/ News/ Produce(market stall) /Bonds Office/ Gaestrobog/ Auberge Du Roitre/ Stables(with horse icon),("Horse and Coach Renting")/ /Golm Werks (with anvil and hammer icon) /Apothecary/ Book Depository
Stations:
Southgate Tram Station (which has a primitive steam locomotive outside)/Upper City Gondola Station?/Industrial Quarter Gondola station?/Main Factory Gondola station?
Training: Combat (Defiance)
TK (Telekinesis)
Special Moves
Feeding The Reaver
Checkpoints
Combat Experience Meter
Reaver Charge (Reaver Gauge)
Reaver Charge Stones
Blood Basins
Soul Basins
Chapter 1: Infiltrate The Stronghold
Escape from the Elder God Chamber
Pursue Moebius
Find the Path to the Pillars
Chapter 5: Reveal The Guardian Citadel
Find the Location of Vorador's Mansion
Explore the Citadel
Find Vorador
Open the Spirit Forge Chamber
Seek Mortanius
Stop Raziel
Chapter 12: Battle Kain/ Resurrect Janos/ Solve the Spirit Forge
Chapter 13: Return to the Guardian Citadel 
Sarafan Stronghold (+Rooms)
Elder's Lair/Underworld
The Cemetery and Kain's Mausoleum
Dark Forge (Defiance)
Light Forge (Defiance)
The Pillars
Guardian Citadel/Vampire Citadel
Fire Forge (Defiance)
Air Forge (Defiance)
Water Forge (Defiance)
Vorador's Mansion and Vorador's/Janos' Crypt
Earth Forge (Defiance)
Spirit Forge (Defiance)
Avernus, Avernus Cathedral and Avernus Catacombs
Bosses and Boss Abilities:
[
edit
|
edit source
]
(guardians invulnerable when casting when casting most of these spells)
Vampire Conflict Guardian Abilities:
Call Shadows(summons shades, as guardian takes damage number of shades increases)
Discord Bolt (single seeking projectile.)

Vampire Nature Guardian Abilities:
Nature's Grip (summons Tentacles)
Fury of Terra (multiple, slowing moving, 'hanging' glowing projectiles which gradually home in.)

Vampire Mind Guardian Abilities:
Mental Simulacrum (guardian vanishes and multiple 'illusions' of the guardian appear, each illusion has only one hit point, if guardian is hit all 'illusions show same reaction and vanish)
Unnamed Projectile (Guide acknowledges these simply as 'projectiles' - similar to 'coloured spheres' used by Nupraptor in BO1.)

Vampire Dimension Guardian Abilities:
Spatial Rift ( teleportation used defensively and offensively)
Blast of Distortion ("very quick guided energy missile")

Vampire States Guardian Abilities:
Quiescent Transformation ( guardian turns to mist making him invulnerable to attack and enabling a Dash Attack - where 'mist' guardian charges, envelops and hold Raz in place.)
Vapor Ball (basic projectile)

Vampire Death Guardian Abilities:
Spiral Dive ( a homing ram attack - guardian literally dives at opponent, not very fast moving)
Chill of the Grave (standard projectile)

Vampire Energy Guardian Abilities:
Sky Fury (guardian casts lightning from its fingertips, very fast attack but is slow to cast)
Tempest's Cloak (guardian imbues his (or allies) body with glowing forcefield which reflects attacks against Raz. 'enhanced' by time distortion attack (see below))

Vampire Time Guardian Abilities:
Time Distortion (alters flow of time. In order, time will speed up then slow back down to normal)
Time Singularity (basic projectile, 'enhanced' by time distortion attack (see above))
Turel Abilities: (blind but uses hearing in most attacks)
Claw Swipe (self explanatory)
Blind Charge (Turel charges at you, quick but inaccurate)
Homing Projectile (slow moving homing blue projectile, several can be present at once.)
TK Force (low level arching TK 'waves' that can be jumped over)
Echolocate/TK Acquire (Turel sends out a powerful sound wave which bounces around the objects in the room, allowing him to pinpoint the location of Raz before sending TK blast to hurl opponent across room - attack can be turned against Turel by striking the gongs)
Berserker Rage (Final dying attacks -wild thrashing and constant screaming - also turned against Turel by Raz) Possessed Janos Abilities:
Air Jump (Janos jumps into air and hovers - followed by 'Hawk Dive','Zephyr's Wind' or 'Torrent of Air' )
Hawk Dive (preceded by Air Jump, Janos swoops down at opponent)
Zephyr's Wind (preceded by Air Jump, Janos emits an quick moving orange cyclone)
Torrent of Air/ Wind (preceded by Air Jump - Janos remains in the air and charges a large blast attack, like many Reaver Spell attacks)
Call of Possession (Janos summons Revenants)
Cyclone Spin (Janos spins in a circle with wings outstretched to strike opponents)
TK Push (close range TK attack)
Enemies and Enemy Abilities:
[
edit
|
edit source
]
Reaper Archon - Abiliities: Draining Leash (a' la Soul siphon|Soul Siphon/Vamp Wraith/Revived Vamp)
Dreadnaught Archon - Abilities: Draining Leash, Projectile Hold ( 'sticky' projectile which immobilizes struck victims - followed by claw swipes)
Cenobite Summoners - Abilities: Nether Rift (summons Red Fire Demons), Demonic Benedictions ('blesses' brothers and summoned demons - I'd assume these are the powers listed under 'Spell Casters' in the instruction manual.)
Cenobite Acolytes - same appearance as Summoners, but lacking the ability to summon demons.
Chained Male/Female (yes those chained humans) - Abilities: Hylden Possession (chained humans have no real attacks, but are particularly vulnerable to Hylden Possesssion)

Tentacles:
Tentacles - Abilities: Tentacle Grab (self explanatory)
Lightning Demon - Abilities: Crack of Lightning (uses pincers to grab and shock opponents), Electrical Displacement (demon transforms to electricity and instantly reforms elsewhere - used to evade(teleport) and shock opponents)
Fire Demon - Abilities: Breath of the Inferno (Fire Breathing - close to medium range attack)

Feral Humans:
Feral Humans (Male/Female) - Abilities: Charge and Leap (self explanatory), Bone Rain (Ferals throw a large bone into the air, which crashes down unpredictably)

Possessed:
The Transformed (living 'possessed' hosts altered to a 'demonic' form) - Abilities:Increased Strength Grab/Throw| Increased Strength Grab/Throw
The Possessed (ordinary living 'possessed' hosts) - Abilities: Increased Strength Grab/Throw
Human Revenant - Abilities: Grave Spit (ranged green 'Hylden energy' Projectile spat at player)
Vampire Revenant - Abilities: Telekinetic Immunity ( blue/green lightning shield deflects TK attacks)
Hylden Revenant - Abilities: Berserker Rage ( lashes out with increased strength 'thrashing' attack)
Sarafan Archer - Abilities: long range arrow attack (guys insideArrow Turrets)
Sarafan Zealot (green guys with two axes)
Sarafan Templar (red sword wielding guys)
Sarafan Crusader (purple polearm wielders)
Sarafan Inquisitor (spell casters) - Abilities: Heal, Amplify Damage,Berserk Shield (gives allies Berserker Rage)
Lesser Shade
Greater Shade - Abilities: Shadow Charge (medium range charge attack)
Mini-Shade - (Dark Reaver Spell)

Statues:
Vampire Golem - Abilities : Kinetic Shield (basic shield)
Guardian Construct (Fire statues) - Abilities: Fiery Shield, Fireball

Vampire Hunters (Moebius' Army ):
Vampire Hunter Juggernaut
Vampire Hunter Mercenary
Vampire Hunter Pillager (fire bomb attacker)
Vampire Hunter Ascetic ('berserk' attacker)
Vampire Hunter Sorceress (spell caster) - Abilities: Rune Shield, Amplify Damage, Regeneration (heal), TK Shield
Watcher Guardians (Gargoyles) Doors
Blocks /Objects
Light/Dark Orbs
Fire Scones/Braziers/Lamps
Air Plinths
Waterfalls
Earth Platforms
Combat Barriers
Health Talisman
TK Ruin/TK Rune (is that supposed to be rune?)
Arcane Tome
Falcon Insignia
Malek's Shield
Malek's Sword
Decorative Sword
"Dark Glowing Orb"
Ornamental Shield
Kain's Family Crest
Faceted Orb
Stone Disc
Bronze Disc
Howling Heartstone
Wheel of Life
Rusted Scales
Carved Stone Skull
Blood Drinker
Heart Seeker
Vorador's Crest
Soul Stealer
Library Seal
Earth Globe
Sphere of Energy
Obsidian Sphere
Dark Scripture
Heart of Darkness
Golden Ouroboros
Religion in Nosgoth?
Unusable Weapons?
Nosgothic Animal Life? (Crows, Wolves, Fish, Dogs, Bats, Frogs, Cats, Rats and Flies observed; horses&snakes implied/depicted, Worms and Maggots mentioned)
Denis Dyack (BO1 Director, Kain Concept, BO1 storyline & mythology)
Amy Hennig (BO1 Design Manager, SR1 Director/Producer,SR1 Original Game Concept, SR1 Script, SR2 Director, SR2 Story, SR2 Dialogue, Def Director, Def Story & Dialogue)
more to be added
to be added
Aevum already has already created a map of Nosgoth itself here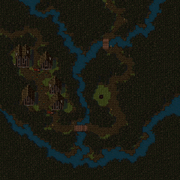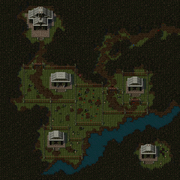 CE: Crypt 2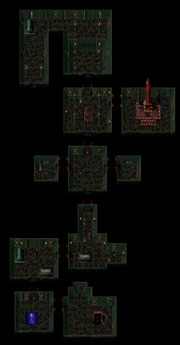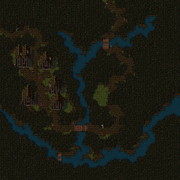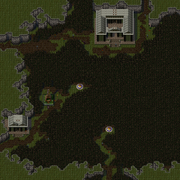 Part1 (entry bottom left; exit top mid)
Part 2 (entry top room, bottom mid; exit bottom room left)

Part3 (entry top room right; exit bottom room bottom - leads to entrance)
Part 1 (entry bottom room bottom; exit mid room bottom right)
Part 2 (entry bottom cave; exit top cave)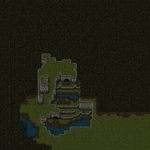 Part 3 (entry bottom mid exit top mid Teleporter - leads to entrance)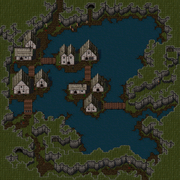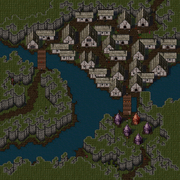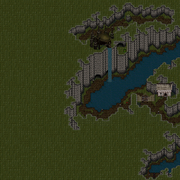 Community content is available under
CC-BY-SA
unless otherwise noted.