The Time Reaver enhancement was an augmentation for The Reaver used by Kain in Legacy of Kain: Defiance. Presumably of Ancient Vampire origin, Kain gained the enhancement after he acquired the Time fragment of the Balance Emblem.
Profile
[
]
The Time Reaver enhancement was the fifth and final Reaver enhancement gained by Kain in Defiance. Kain found the enhancement in Chapter 9 when exploring the Vampire Citadel, he found his way to the Light Forge and discovered the Time Fragment of the Balance Emblem upgrading its power. With the Balance Emblem complete Kain was able to enter the inner sanctum of the Vampire Citadel.[Defiance][Defiance/9].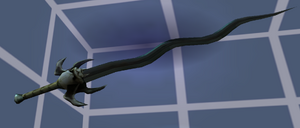 The Time enhancement made the Reaver to glow with blue energies. In combat its charged attacks slowed struck enemy movements while its Reaver Spell gave Kain the ability to slow time for a short period.[Defiance][Defiance strategy guide]
Notes
[
]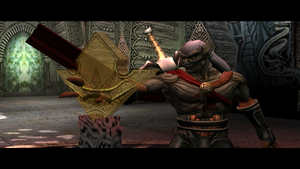 The Time fragment was the last fragment of the Balance Emblem for Kain to receive, it did increased damage when fully charged and worked like his Slow Time Battle Artifact. (Enemies move a fourth of their speed).
See also
[
]
References
[
]
↑ Defiance: Kain's Reavers at Dark Chronicle (by Ardeth Silvereni)
Browse
[
]