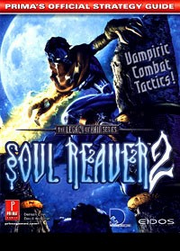 Prima's Official Strategy Guide to Legacy of Kain: Soul Reaver 2 is the official game guide to Soul Reaver 2, published by the 'Prima Games' division of Random House publishing.
Prologue (Opening FMV summary)
Cast of Characters (Character Profiles)
Training Grounds (basic gameplay, abilities and combat)
Armory (Weapons classes guide)
Bestiary (full Enemy variants guide)
Full Walkthrough (with additional highlighted 'tips')
Epilogue (Closing FMV summary)
Bonus Materials Cheat Code
Though not perhaps as detailed in this aspect as the Defiance Prima Guide, the Soul Reaver 2 Guide also goes into detail of individual rooms, particularly in the Sarafan Stronghold area. The guide also contains a multitude of concept art images.
The Guide was written by Demian Linn and David Hodgson. Bryan Neff and Jody Seltzer are credited with Design and Layout.
Community content is available under
CC-BY-SA
unless otherwise noted.