the Sluagh are a race of spectral predators, they come from the spectral realm and eat souls.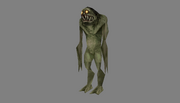 The Sluagh present in the Soul Reaver alpha have a slightly different appearance to those in retail, with less washed out colors and brighter yellow eyes which glow in the dark.
This article is about the Sluagh enemy variant seen in Legacy of Kain: Soul Reaver. For the Sluagh creature family, see Sluagh. For the common Soul Reaver 2 Sluagh enemy variant, see Sluagh (Soul Reaver 2). For the larger Soul Reaver 2 Sluagh enemy variant, see Greater sluagh. For the Sluagh enemy variant of Legacy of Kain: Defiance, see Sluagh (Defiance).
Community content is available under
CC-BY-SA
unless otherwise noted.