Profile
[
]
the Sluagh are a race of spectral predators, they come from the spectral realm and eat souls.
Development
[
]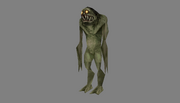 The Sluagh present in the Soul Reaver alpha have a slightly different appearance to those in retail, with less washed out colors and brighter yellow eyes which glow in the dark.
Gallery
[
]
See also
[
]
Browse
[
]
This article is about the Sluagh enemy variant seen in Legacy of Kain: Soul Reaver. For the Sluagh creature family, see Sluagh. For the common Soul Reaver 2 Sluagh enemy variant, see Sluagh (Soul Reaver 2). For the larger Soul Reaver 2 Sluagh enemy variant, see Greater sluagh. For the Sluagh enemy variant of Legacy of Kain: Defiance, see Sluagh (Defiance).
Games
Legacy of Kain: Soul Reaver (1999)
Demos
The

Lighthouse demo

· The Fire Glyph demo · Legacy of Kain: Soul Reaver - Quest for Melchiah
Manuals
The Legacy of Kain: Soul Reaver manual · Legacy of Kain: Soul Reaver: Prima's Official Strategy Guide · Legacy of Kain: Soul Reaver - Das Offizielle Lösungsbuch
Comics
The Legacy of Kain: Soul Reaver comic (1999)