Jurassic World: Dominion Dominates Fandom Wikis - The Loop
Play Sound
Sarafan Priests,[1][2][3][4] also known as Priests[5] or Clergymen,[6][7][8] were an Enemy class encountered by Kain in Blood Omen 2, they were seen exclusively in Chapter 4: the Upper City [Blood Omen 2].
Profile
[
]
Sarafan Priests were Human clergymen controlled by Marcus using the Dark Gift Charm,[9] which manifested as a bright pink/white glow surrounding their heads. The priests confronted Kain at Marcus' command [1][7] and their presence could be used as an indicator of Marcus' proximity.[2] The Priests wore white attire with a blue trim and blue hood and were armed with a Scepter in the shape of the Sarafan symbol, though some priests seen later in the chapter and in Marcus' Boss battle are also armed with crossbows[Blood Omen 2].
The Priests were first encountered shortly after Kain entered the Upper City when a meeting with Marcus led to a chase to between the two Vampires to reach the Bishop of Meridian[Blood Omen 2]. At the onset of the chase, Marcus summoned the charmed priests[7] to impede Kain's progress through a series of underground chambers near Meridian Cathedral before he fled to the Bishop's Manor.[10] When Kain returned to the cathedral at the end of the chapter, he was confronted again by the charmed priests in the graveyard area.[3]
Their last appearance was in Marcus' Boss Battle inside the cathedral itself, where Marcus summoned them on several occasions to assist in his fight with Kain[Blood Omen 2]. Marcus initially called upon them at the end of the first phase of the fight to cut the cathedral's bell rope (preventing Kain from ringing the bells and stunning Marcus).[4] In the second and third phases of the battle, Marcus summoned Sarafan Priests to directly battle Kain on the upper balcony level of the cathedral[8] and in addition to their usual Scepter, they were also armed with a crossbow from which they shot dangerous fire arrows.[5]
Notes
[
]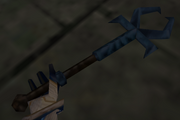 Sarafan Priests are only seen in Chapter 4: the Upper City. Within that chapter they are only seen at the very beginning and end of the chapter. As their title and attire suggests, they are close to Meridian Cathedral on both occasions[Blood Omen 2].
When Marcus initially confronts Kain, the corpses of two priests are visible on the ground behind Marcus and can be fed on shortly after[6][Blood Omen 2].
Since all of the clergyman seen in the Upper City are under Marcus' control, it is not known conclusively known where their allegiance lies, but the possession of the Sarafan Symbol Scepter [Blood Omen 2] may suggest it lies with the Sarafan.
The priests encountered in Marcus' boss battle can be fed from but do not drop either of their weapons (crossbows cannot be picked up anyway)[Blood Omen 2].
Debug information labels the Priests as "Prst"[Blood Omen 2]. Marcus himself refers them as "sheep" and "puppets".[8]
References
[
]
Browse
[
]