Jurassic World: Dominion Dominates Fandom Wikis - The Loop
Play Sound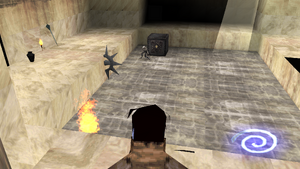 The Riley's Test Area, also known as the Test Rooms were a series of testing rooms found in earlier versions of Legacy of Kain: Soul Reaver, each used for testing specific functions of the game.
Profile
[
]
The test rooms can still be accessed in the Debug menus of earlier version of Soul Reaver where they are split into two groups (1-15 and 16-30) - test rooms are listed under "Riley's Test Area" and are titled as "Test 1" to "Test 30". Each room set is broadly the same, with small variations in content and characters/enemies/NPCs present according to what was being tested.
Similar to the push rooms the test rooms all bear a similar layout with all appearing as a rectangular room with raised 'terraces' along each side and a single shallow alcove in one wall. The test rooms only exist in the may and june beta versions and are found in debug menus under 'Riley's test area' referencing designer Riley Cooper. The rooms mostly feature a basic set of objects including a flip switch, a lever, a block, a fire, a shaft of sunlight, a dart, a torch, a vase and a set of circular wall spikes.
Known Rooms
[
]
Test Rooms - generally a rectangular room with raised 'terraces' along each side and a single alcove in one wall.

Riley's Test Area

Test1 - contains all Glyphs counters (using various special effects), a switch, a lever, an X-decorated block (from the Oracle's Cave), a fire, a shaft of sunlight, a Dart, a torch, a vase, a set of Wall spikes, a Fledgling Dumahim (Material Realm),
Test2 - Test 2 contains the same objects but without the glyph counters. This time an adult dumahim is present
Test3 - Test 3 the same again but with an adult revived dumahim
Test4 - Test 4 features a fledgling Melchahim and an adept worshipper knife weapon. This can be picked up and used – a feature not present in the retail version.
Test5 - In Test 5 the position of the dart changes and 2 adult melchahim were present along with a Melchahim pupation mound.
Test6 - Test 6 reverted the dart to its original position and added an adult revived melchahim.
Test7 - Test 7 featured a fledgling Rahabim
Test8 - Test 8 counted as underwater and featured three Rahaim pupation pods on the terraces – one of which would spawn an adult Rahabim.
Test9 - Test 9 featured a revived adult rahabim
Test10 - Test 10 featured a fledgling zephonim
Test11 - Test 11 featured an adult zephonim
Test12 - Test 12 featured an adult revived zephonim
Test13 - Test 13 featured a fledgling Turelim
Test14 - Test 14 featured an adult Turelim
More Test Areas

Test16 - Test 16 featured 3 sluagh and 3 souls in spectral
Test17 - Test 17 featured a vampire wraith in spectral
Test18 - Test 18 featured a novitiate worshipper armed with a novitiate staff. This weapon can be picked up and used.
Test19 - Test 19 featured an adept worshipper armed with an adept knife. This weapon can be picked up and used.
Test20 - Test 20 featured a pair of crossbow wielding vampire hunters. These weapons can be picked up and used.
Test21 - Test 21 featured a flamethrower wielding vampire hunter. This weapon can be picked up and used.
Test22 - Test 22 featured 3 villagers – 2 were the blue male variant and one the red female variant
Test23 - Test 23 featured 2 villagers – one was the green male variant and the other the purple female variant
Test24 - Test 24 featured the bald male villager who resembles bitchio's dad and let's see if you even read these
Test25 - Test 25 featured the devolved Melchiah. In addition the hazard and objects were missing from the bottom level, leaving only the vase dart and torch on the side terrace.
Test26 - Test 26 featured the devolved Dumah. In material he was stuck as though seated on his throne, but was fully active in spectral. Again hazards and objects on the lower level were removed.
Test27 - Test 27 again featured and adult Melchahim, but this time without the spikes and the switch on the lower level.
Test28 - Test 28 was the same a Test 27
Test30 - Test 30 featured more atmospheric and appropriate lighting, with a crossbow hunter and an adept worshipper in the centre of the room, the side terraces contained a health power up, but the block was the only one of the basic objects to make it into this room design. One one of the side walls a wide circular tunnel led off for some distance before terminating in solid rock.
'Missing' rooms
[
]
Test29 - Despite numerically being suggested to have existed, "Test 29" is not present in any known builds
Test31 - Test 31 is present in early beta files but cannot be accessed through debug menus. Examination through other means reveals this code is used for the tunnel branching off from Test 30
Test32 - Test 32 is present in early beta files but cannot be accessed through debug menus. Examination through other means reveals this code is used for the end of the tunnel branching off from Test 30
Browse
[
]