Chronicling the Land of Nosgoth since 2007
Community portal • Manual of Style • About us
Email •

Facebook •

Twitter
Create blog post
News
It's time once again for a mystery bombshell to drop from the heavens and blow open the Legacy of Kain Fandom. In the same vein as our previous expose on the Blood Omen alpha and Soul Reaver movie room updates from last year, this promises to be the single largest outpouring of cut content in the series history. As Ben Lincoln of The Lost Worlds once eloquently put it: "Every great story is pared down from a larger concept. The reasons vary, but the result is the same - a catalogue of the things that might have been.".

Infamously Legacy of Kain: Soul Reaver had its final third cut as time pressures meant swathes of content was left on the cutting room floor – believed to be lost forever. For years a group of fans have been striving to recover and illuminate as much as we can about those darkened and long forgotten corners. Now the time has come for us to unveil our biggest find - the holy grail of cut Legacy of Kain cut content. In partnership with Aesir Hod, Kevin Chatmajo, The Lost Wor…

Read more >
See more >
Games
Categories
Featured article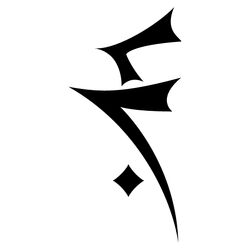 The Turelim are a clan of vampires first encountered in Legacy of Kain: Soul Reaver as enemies and revisited at an earlier stage of evolutionary development in the cancelled title Nosgoth. They are the descendants of the lieutenant Turel. As with all the clans seen in Legacy of Kain: Soul Reaver, the Turelim are split into two distinct active types: the older, stronger and more evolved adult Turelim; and the younger, weaker and less evolved fledgling Turelim. For their return in Nosgoth a less devolved 'Tyrant' variant class was among the initially available classes.
Featured image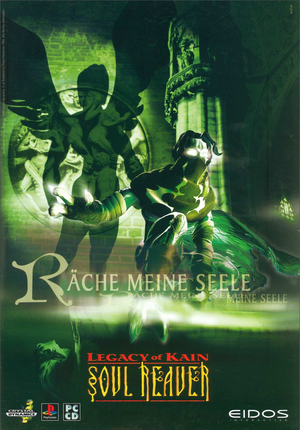 An early promotional advert for Legacy of Kain: Soul Reaver from a German videogame magazine 'Man!ac' in 1999. The design of the image notably adapts other promotional renders of Raziel and takes its cues from the early Shifter concepts in showing Raziel's shadow in an angelic form. The background of the image appear to show a Cathedral-like location with a distinctive mural, however this does not match any location in the final game. The poster itself seemed to be unique to the Germany and was not used to promote the game elsewhere, but it could be seen on the box of the Oxmox statue - itself intended for the German market. The caption reads "Avenge my soul".
Featured video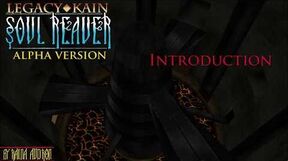 Browse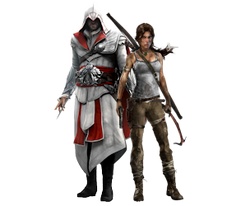 Community content is available under
CC-BY-SA
unless otherwise noted.