Chronicling the Land of Nosgoth since 2007
Community portal • Manual of Style • About us
Email •

Facebook •

Twitter
News

Baziel
•
Lets get the big news out of the way first. This morning the SE era came to a close as Square Enix sold off most of its western division to Emrbacer Group - the media group that formally known as THQ Nordic that has been buying up devs, publishers and IP's of late. Notably known for reviving the Darksiders series.
Here's one article among many that have impacted the web this morning
Lok, Tomb Raider, Thief and Deus Ex have been treated as big names in the acquisition and have been frequently acknowledged throughout. For now SE's London offices, Life is Strange, Just Cause, Sleeping Dogs and Outriders will remain with SE - although there are hints that could change in future.
The relatively small reported price of the deal suggests that SE saw little value in the properties while it pushes into crypto and blockchain tech, while Embracer was happy to gain a few big names IP's for a steal. The future will tell if this is a good move for LoK but after over a decade of virtual dormancy under …
See more >
Games
Categories
Featured article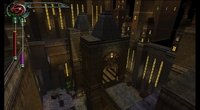 The Industrial Quarter is a playable location in Meridian, seen in Blood Omen 2. The Nexus Stone chapter takes place in the Industrial Quarter and the location was also briefly featured in the chapter A Question of Faith. The Industrial Quarter is the area of Meridian with the heaviest concentration of factories and industrial development, it was a "heavily guarded fortress" that was populated by various Sarafan-affiliated troops and Industrial workers. There were no 'ordinary' NPC's as the Industrial Quarter was not a residential area.
see more
Featured image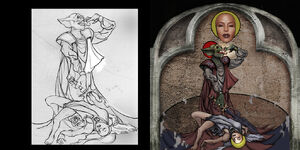 A comparison by Daniel Cabuco of one of the murals in the Sarafan Stronghold of Soul Reaver 2, showing its development from concept art to the final mural texture seen in game. The murals of the Chapter House within the stronghold recounted the story of Vorador's Slaughter of the Circle of Nine in Nosgoth's early history, with each panel showing Vorador killing one - or two - of the pillar guardians. The guardian in this panel - a bald woman - was one of those whose death was shown in the event in Blood Omen: Legacy of Kain and careful deduction reveals that she was likely Ariel's predecessor as Guardian of the Pillar of Balance.
Featured video
Browse