Jurassic World: Dominion Dominates Fandom Wikis - The Loop
Play Sound
February 4th, 1999 prototype of Legacy of Kain: Soul Reaver
Development
[
]
The second earliest build of Soul Reaver has several fixes since its January counterpart. Its debug menu can now be activated by pressing square and circle or by clicking the left stick.
The Cistern and Turel´s audience chamber have been implemented. Turel himself is placed within the audience chamber but is immovable and while he has a variety of animations, none trigger within the game without the use of cheat devices.
The Retreat 1, 2 and 3 rooms have also been added, albeit Retreat 3 is not textured, unlike the first two. Screenshots of textured Retreat 3 exist and have been seen in magazines.
The wide tunnel coming from Aluka 1 has now been blocked off since this build and there has been a rock wall with drains placed there instead.
This build includes some of the texture fixes but also some textures stopped displaying correctly in areas such as Necropolis.
Characters
[
]
Locations
[
]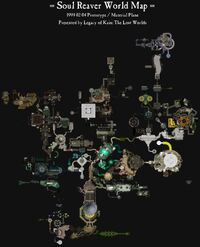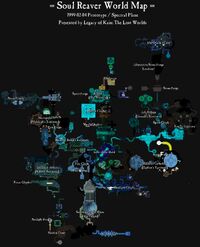 The Undercity
Turel's Clan Territory
Kain's Mountain Retreat
The Spirit Glyph Altar
The Sound Forge
The Spirit Forge
The Stone Forge
The Sunlight Forge
The Water Forge
Walkthrough
[
]
Vampire Scourge
Underworld
Raziel's Clan Territory
Necropolis
Force Glyph
Soul Reaver
The Silenced Cathedral
Zephon
Tomb Of Sarafan
The Drowned Abbey
Rahab
City Life And Death
Ruined City of the Dumahim
Dumah
Oracle's Cave
Showdown With Kain
Terms
[
]
Items
[
]
The Spectral Reaver
The Material Reaver
The Sunlight Reaver
The Water Reaver
The Stone Reaver
The Fire Reaver
The Spirit Reaver
The Sound Reaver
Abilities
[
]
The Sunlight Glyph
The Water Glyph
The Fire Glyph
The Stone Glyph
The Spirit Glyph
The Force Glyph
The Sound Glyph
The Shift Glyph
Enemies
[
]
Gallery
[
]
Notes
[
]
See also
[
]
<LOST WORLDS LINK, OTHER COVERAGE HERE>
References
[
]
Browse
[
]
Concepts
Kain II · Shifter
Prototypes
Jan 23, 1999 · Feb 4, 1999 · Feb 16, 1999 · Apr 14, 1999 · May 12, 1999 · Jun 1, 1999 · Jun 10, 1999 · Jun 18, 1999 · Jun 28, 1999 · Jul 2, 1999 · Jul 14, 1999 · Dec 13, 1999 · Jan 12, 2000 · Jan 18, 2000
Concepts
Kain II · Shifter
Prototypes
Jan 23, 1999 · Feb 4, 1999 · Feb 16, 1999 · Apr 14, 1999 · May 12, 1999 · Jun 1, 1999 · Jun 10, 1999 · Jun 18, 1999 · Jun 28, 1999 · Jul 2, 1999 · Jul 14, 1999 · Dec 13, 1999 · Jan 12, 2000 · Jan 18, 2000