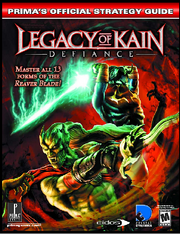 Prima's Official Strategy Guide to Legacy of Kain: Defiance is the official game guide to Defiance, published by the 'Prima Games' division of Random House publishing.
Contents
[
]
Prologue (Nosgoth's history)
Cast of Characters (Character profiles)
Training Grounds (Gameplay basics, Abilities, Special Moves, Combat)
Reavers (Reaver meters and Reaver Enhancements)
Full Walkthrough (including Room Maps, Objectives, Artefacts, Items)
Boss Strategies and Abilities
Full Enemy Guide (Strategies and Abilities for all enemy variants)
Item Location Guide (Arcane Tomes, Health Talisman and TK Ruins)
'Spoilers' for Bonus Material (Arcane Tomes) and Behind-the-Scenes Materials.
Notes
[
]
The Defiance Prima Guide names most of the areas in Defiance, down to individual named rooms and includes high quality maps of each. The guide also includes a multitude of concept art images.
The Guide was written by "JDP" and Gerald Guess. Brian Lane is credited with "Gameplay Assistance". The late Kyle Mannerberg (who was intended to be one of the figures who was 'in charge' of the series post-Defiance) is credited under "special thanks".
References
[
]
Browse
[
]
Games
Legacy of Kain: Soul Reaver (1999)
Demos
The

Lighthouse demo

· The Fire Glyph demo · Legacy of Kain: Soul Reaver - Quest for Melchiah
Manuals
The Legacy of Kain: Soul Reaver manual · Legacy of Kain: Soul Reaver: Prima's Official Strategy Guide · Legacy of Kain: Soul Reaver - Das Offizielle Lösungsbuch
Comics
The Legacy of Kain: Soul Reaver comic (1999)