Legacy of Kain: Dead Sun was a cancelled Legacy of Kain game. It was the second of two known abortive attempts from Eidos Interactive/Square Enix Europe to create a sixth game in the series. The first was Legacy of Kain: The Dark Prophecy.
Dead Sun was developed by Climax Studios from 2010 to 2012, with some supervision from the series' original publisher and developer, Crystal Dynamics. An accompanying multiplayer project, named War for Nosgoth, was delegated to Psyonix. Described as an "in-continuity reboot", the game was to star Gein/Asher – a new vampire protagonist – and would introduce a new era in Nosgoth's distant future.[Forum/NeoGAF] The target format for the game changed repeatedly during development; in its final form, it was envisioned as a PlayStation 4 launch title.
The action-adventure project was not revealed to the public, and was secretly cancelled in 2012 by Square Enix Europe, despite a significant amount of completed work. In 2013, after the announcement of multiplayer game Nosgoth, a Legacy of Kain community member, Divine Shadow/Mama Robotnik, publicized a wealth of information and media from the scrapped game, sourced from contacts in Climax Studios. His investigation alleged that Nosgoth had originated as Dead Sun's multiplayer mode, and would reuse some of the single-player game's assets.
Square Enix Europe's community manager, George Kelion, officially acknowledged the cancelled project, saying that it "just wasn't the right game, at the right time."[Forum/NeoGAF]
Development
Edit
Prior to discovery
Edit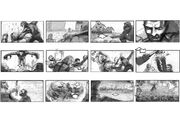 In 2008, Legacy of Kain fan Divine Shadow uncovered evidence that a sixth Legacy of Kain game – Legacy of Kain: The Dark Prophecy – entered development under Ritual Entertainment in 2004, but was cancelled in the same year, before being announced to the public.[1][2][3] Heightened fan demand for news of a sequel followed.[4]
Game Revolution reported in May 2011 that one of their users, daverabbit, contacted them to say, "so I'm part of a website where you get paid to take online surveys and today I took one that asked me what I thought about different possible names for a Legacy of Kain game. Has there been any news about a new game in this series that I have missed or did I stumble across something here? The four names were Obsidian Blood, Obsidian Sun, Dead Sun, and Revenant. They also asked if the names sounded good alone or tagged with any of the Legacy of Kain/Soul Reaver/Blood Omen names used previously. Surveys I've taken in the past have had the product later show up on store shelves so I figured I would share this info with you guys".[7] Nosgothic Realm user KillForGlory contacted daverabbit on the legitimacy of his comments; daverabbit could offer no additional proof, but said, "I'm really not creative enough to fabricate a story about a game I played a decade ago. I am wishing it's true as much as anyone else and maybe they'll be news [sic] about it at E3".[2]
Follow-up news on a future Legacy of Kain game remained sparse until 2012, when VG247 discussed rumors of an upcoming Legacy of Kain: Soul Reaver reboot, and early 2013, when it was reported that Square Enix had registered rights to a new domain name, "warfornosgoth.com".[8][9]
Soon afterward, Edwin Evans-Thirlwell of the Official Xbox Magazine noticed that Passion Pictures artist Richard Buxton listed a 2011 Legacy of Kain "animation pitch" at his LinkedIn page. Buxton's portfolio site featured "some highly Kain-ish art" – a storyboard – but when Evans-Thirlwell telephoned him for comment, he simply responded, "I'm not allowed to talk about that", and later edited his profiles to omit the storyboard and all references to the Legacy of Kain series.[10][11][12]
After a number of further leaks in May 2013, Square Enix London community manager George Kelion came forward to confirm that a game named "Nosgoth exists and is in active development, but is not a traditional Legacy of Kain action-adventure game". He said, "the community should not be thinking of Nosgoth in terms of a single-player experience", and, "Nosgoth is not being developed by Crystal Dynamics, nor are they working on a Legacy of Kain game right now [...] Sorry to be so cagey. There will be an official announcement in due course when we'll reveal Nosgoth properly, so we can't go into tons of detail just at the moment. Everyone at Square Enix is really excited by the game and we're all looking forward to lifting the veil of secrecy in the future".[13][14][15][16]
Discovery
Edit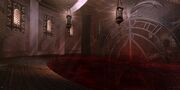 In June 2013, Divine Shadow posted a thread at NeoGAF, covering ten cancelled Legacy of Kain games and ports, including The Pillars of Nosgoth, Kain II, Sirens, Shifter, Chakan, and Legacy of Kain: The Dark Prophecy. The final scrapped project was an entirely new discovery: Legacy of Kain: Dead Sun.[17]
Divine Shadow explained, "the recent announcement that Nosgoth – the sixth Legacy of Kain game is going to be a multiplayer experience, somewhat startled me. It made little sense. Why would Square Enix take a series entirely famous for delivering driven single-player experiences, wait a decade, and suddenly resurrect the IP as multiplayer game [sic]? I could not come up with a rational explanation, and felt that I only had part of the story. Given my investment in the series, I needed answers. With the completion of this thread, I now have those answers".[17]
Investigating a hint that game developer Climax Studios had recently worked on an Unreal Engine 3 project with Crystal Dynamics, Divine Shadow realized that some former Climax staff members' LinkedIn profiles corroborated this idea, and collected media which "could fit into the gothic Legacy of Kain style" from Climax artists' online portfolio sites. He contacted several Climax team members; though many did not respond, or refused to comment, some agreed to discuss the Legacy of Kain game. Divine Shadow said, "agreements were made with the sources independently by email – they would confirm which media I had found on the internet was from the cancelled project – and they would also divulge information – to be paraphrased and not quoted directly."[17]
Divine Shadow relayed the following information from the Climax Studios personnel:[17]
•
"Square Enix commissioned Climax Games to work on a new Legacy of Kain game at some point between 2009-2010. Crystal Dynamics provided some supervision on the project."
•
"Square Enix had a number of requirements for the game: it must have a single-player and multiplayer component and it must feature a new main character with a story distant to the original series."
•
"Climax Games worked on the single-player component. Psyonix Games worked on the multiplayer component. Both games shared art assets, but other than that were wholly disconnected from each other."
• "
The single-player game went through many titles, eventually settling on
Legacy of Kain – Dead Sun
."
•
"The target format of the game changed rapidly during development. At one point it was envisioned as a small project (possibly downloadable?), and then as a Xbox 360/PS3 retail release. In its final form, the game would have been a PlayStation 4 launch title – I am unclear whether an Xbox One or PC release was also planned."
•
"A large amount of work went into the game, with a tremendous amount of hours contributed by the artists. Development had progressed to the point in which some voice acting/motion capture had taken place."
•
"Square Enix eventually projected that the game wouldn't reach their sales expectations, and they decided to cancel it in 2012. One of my sources speculates that as the company had invested no money into marketing at this point, it was an easy decision for them. Some of the development team were not told about the cancellation, and still came in on their weekends to work on the game while Square Enix executives knew it would not be coming out."
•
"There is a great sense of frustration that the game was not released. Due to a very strict NDA, anyone who worked on the project cannot discuss it openly without putting themselves in significant trouble."
•
""Nosgoth" - once known as "War for Nosgoth" – is the multiplayer component of Legacy of Kain : Dead Sun. It recycles the art assets from the cancelled single-player project, and has been compared strongly to "Monday Night Combat" with third-person battles using period-appropriate weapons such as crossbows."
In his post, Divine Shadow provided the assets whose relation to Legacy of Kain: Dead Sun he had been able to verify, including various images, renders, textures, and animators' videos (one featuring voice acting). He also confirmed that Richard Buxton's storyboard had been produced for the project: it was"for a CG trailer that was never made".[17] Soon, another anonymous Climax Studios staff member provided additional screenshots of combat.[18]
Divine Shadow observed, that"Legacy of Kain: The Dark Prophecy was in development for barely four months, and it took nine years for all the listed materials above to be made public. Legacy of Kain: Dead Sun was in development for over three 3 years [sic] (if you include preproduction). It has barely been a year since it was cancelled, and I anticipate over the next few years we will see much more of the work that went into it."[17]
Official reaction
Edit
George Kelion responded to the news of the leaked project with an official statement acknowledging its existence. He confirmed that Legacy of Kain: Dead Sun had been a project in development, disputed the accuracy of some indeterminate details revealed by the Climax Studios developers, and offered another series of relevant images:[19]
"I've been watching this post and I thought you might want a bit more information. I can confirm that
Dead Sun
was a project which had been in development - but which was cancelled.
"I know it's disappointing to hear about these things out of context, and whilst some of the details released are accurate - some details are not. You know game projects can be cancelled for a variety of different reasons and I know it's very hard to tell from images and info alone, but in the end
LoK: Dead Sun
just wasn't the right game, at the right time... but you'll have to take me at my word on that, I'm afraid.
"Obviously, it's not usual for assets from cancelled games to be released, but given that there's a lot out there already I thought you might appreciate seeing a few more images that were taken from the previously in-progress game.
"As you'll be aware, we're currently working on a multiplayer game firmly set within the
Legacy of Kain
universe called
Nosgoth
, which we're very proud of. It's grown in size and scope since its initial conception and we'll be talking more about it in the future. While we're not working on a single-player
Legacy of Kain
game right now, that doesn't mean it's not something we'd look at making in the future."
―
George "Monkeythumbz" Kelion
[19]
Even so, Kelion said that it would be "unlikely" that Square Enix would voluntarily divulge much more information on the cancelled game, even after Nosgoth's future formal reveal.[20]
In a statement to Eurogamer, Climax Studios' CEO, Simon Gardner, commented:[21]
"As you would expect, we are covered under NDA and really don't have anything to add. Many games never see the light of day for lots of different reasons, especially over the last few years where business models and markets have been evolving rapidly. We continue to have a good relationship with Square Enix."
However, United Kingdom-based game artists Roberto Raio and Ian Stubbington both vouched on Twitter that they had worked on the title. Raio said he "did work on this game for almost 2 years".[22][23][24] Climax's Sam Barlow also reposted the news story, and reflected, "so that's all out in the open then - Moving on".[25]
Daniel Cabuco, the former Legacy of Kain series art director, passed comment on the scrapped game:[26]
"Sounds like it would have been pretty cool. I can see why they steered clear of Kain.. It's like untangling a box of cords.
"Very interesting article!
[...] "Well, as I said on facebook's thread, keep an open mind. If it does well then maybe they will make another action adventure Kain game."
In a final statement, Kelion confirmed that Nosgoth had been intended as the multiplayer component of Legacy of Kain: Dead Sun, but offered more context on its origins:[27][28]
"So I've seen some comments in some areas of the games media interpreting
Nosgoth'
s existence as something that was somehow 'pulled' from the cancelled
Dead Sun
game. Obviously it's always fun to try and suggest conclusions, and that's completely understandable when there's not a lot of information around (which will always be the case with something like a cancelled game).
"But I can categorically confirm that
Nosgoth
was a separate game from the beginning and is very much a unique game in its own right. It was related to the single-player game in terms of a shared art direction, but was always set in an entirely different time period and features different mechanics, characters, levels and gameplay. It isn't and never was just a multiplayer version of the single-player game.
"Personally, I can't wait to show you exactly what we've been working on."
[27]
[...] "Had
Dead Sun
shipped, then
Nosgoth
would have been its multiplayer companion game. However, to categorize it as the "the [sic] multiplayer component of Dead Sun pulled out and fleshed out" isn't really accurate, nor does it do it justice IMHO."
[28]
―George "Monkeythumbz" Kelion
Subsequent revelations
Edit
Dan Hitchen
Edit
Prior to August 2013, former Climax Studios artist Dan Hitchen updated his online portfolio, attesting that "whilst at Climax I worked on the cancelled Legacy of Kain: Dead Sun for current-gen consoles".[29] His website featured several renders of "a character produced during [his] time at Climax Group" for the game.[30]
Flipbook Studios
Edit
In August 2013, Twitter user Alex_Roblez1986 noticed that Flipbook Studios, a "CGI and Visual Effects Boutique in Manchester", had recently posted various pieces of concept art for a "Cancelled AAA Game" on their website.[31][32] While not explicitly identified as being related to Legacy of Kain: Dead Sun, two of the images bore the titles "Legacy-of-Kain-1-1500x1060.jpg" and "Legacy-of-Kain-2-1500x1060.jpg". They distinctively showcased the character of Gein/Asher, and contained annotations ascribed to trailers named"The Blood Line" and"The Hunter" respectively.[33] Another vista concept, designed for a "Lake Town" environment, featured what appeared to be the Silenced Cathedral.[34][35]
Six further pieces of concept art were included as part of a separate blog entry on the site, entitled"A salute to unsung creative work":[36]
"As a visual creative studio we're often very fortunate to work on new brands/products months and sometimes years before they're launched. This is especially true of our work in the video games industry, where we'll often work on development art-work, cut scenes, pre-rendered benchmark movies and life-like CGI simulations for the developer's art teams to try and recreate in the games engine, during development. Cinematics or Feature Movies (FMV) used to promote or announce new games titles can often take just as long to formulate and produce once we've met with the development teams, learnt about the USP/s of the game, worked up initial scripts, storyboards, concept art of key scenes and animatics. This is all before we actually begin work on producing the cinematic, which can in itself take upwards of 2-3 months to complete.
"These jobs are often a labour of love and it's fair to say the Flipbook team more than often get a little attached to them. It is therefore always very sad when a game is cancelled before going to market, something that does unfortunately happen from time to time. This regrettably happened to a AAA game we'd spent the last couple of years directing and producing a CGI teaser and announcement trailer for. Suffice to say this game IP was a biggy with an engaging plot and some pretty awesome character and environment designs, so we're sure the decision wasn't taken lightly. Of course now that the game will never see the light of day, neither will the trailers, which is sad not only for us but especially so for the substantial design and development teams who lovingly crafted the game in the first place.
"Although we're not allowed to tell you what the game was or indeed who we worked with, we have kindly been allowed to show some of the concept art we created for the project. The art work we're allowed to show is selective and doesn't reveal too much about the game, but it does at the very least provide a few examples of the creative direction and pre-visualisation services we typically provide on productions such as this. If you'd like to find out more about any of our games services then please do get in touch and we'd be more than happy to oblige. We can also show more of the concept art for the trailers discussed above in one-one meetings."
[36]
―Flipbook Studios
The nine suspected Legacy of Kain: Dead Sun images were publicized and discussed on the Eidos forums.[33][35][37] Within the same day, Flipbook Studios deleted most of them and replaced them with renamed, lower-resolution copies, implicitly confirming their relation to the cancelled project. Only the"Lake Town" piece retained its original file name.[38][39][40]
Backstory and setting
Edit
According to Divine Shadow's sources, Legacy of Kain: Dead Sun was not a reboot; it existed within established Legacy of Kain continuity. Its single-player storyline was to take place in Nosgoth's distant future, in an unfamiliar time period, even later than the events of Soul Reaver. This had been mandated by Square Enix, as had the instruction to develop a new main character. Legacy of Kain: Dead Sun was to introduce the devoutly-religious Saradin, a new sub-race of vampires, with blue skin, and the abilities to devour souls and shift between the Material and Spectral Realms. The Saradin vampire Gein, and the human Asher, were to act as the game's protagonists: their souls, bound together in an accidental phenomenon, would – much like Kain and Raziel before them – embark on a journey which, though initially motivated by revenge, would escalate to decide the fate of Nosgoth as a whole. The character of the Elder God was fundamentally involved.[17]
Story synopsis
Edit
Divine Shadow delivered the following specific points of information regarding the planned story:[17]
•
"A distant continuation of the series – in the same way that Doctor Who and Star Trek: The Next Generation took place in the same universe but were not immediate continuations of previous events."
•
"Legacy of Kain: Dead Sun is set in Nosgoth's far future, long after the events of Soul Reaver."
•
"There is a race of blue-skinned vampires living in this era –known as the Saradin. The vampires have evolved beyond those seen in the series previously, and have the ability to shift between spectral and material realms at will – and to consume souls. The vampires are devoutly religious."
•
"Gein is one of these Saradin vampires, and he attacks a human of Nosgoth called Asher. Gein kills Asher and begins to feed on his soul. Something happens here that causes Asher's human soul to accidentally become bound in Gein's body. Gein becomes a unique creature, a human soul in control of (and trapped in) a vampire body."
•
"Gein/Asher attempts to return to his human village, but during his absence the settlement has been attacked and torched. Gein/Asher unsuccessfully attempts suicide."
•
"Gein/Asher explores Nosgoth with his new abilities. His quest for revenge against the destroyers of his village and those responsible for his circumstances – becomes a quest that will decide the fate of the world, as per Legacy of Kain tradition."
•
"Asher (the human trapped in the vampire body) begins to realise that Gein (the original vampire soul of the body) is still present. Gein appears to Asher in visions, providing a vampiric perspective and alternate insight into the game's events."
•
"The story would have explored the mystery surrounding a very old vampire child, and revolved around The Elder God. Religion was one of the game's overarching themes."
•
"Further story links to previous games."
The meaning of the game's title, "Legacy of Kain: Dead Sun", was not revealed (if it had any).[17]
Characters
Edit
The Climax Studios team members' story outline, and various pieces of artwork, posited various characters:[17][19]
George Kelion revealed that "there was no Hylden presence in [the] (now cancelled) game", and clarified that no Hylden characters were depicted in the images he released, despite any resemblance.[20] The question as to whether any previously established characters, other than the Elder God, would have played any part remained unaddressed.[17] Simon Templeman, Kain's voice actor, said that he had not been asked to reprise his role.[41][42]
Testimony from the anonymous Climax Studios employees revealed that Climax had collaborated with long-time Legacy of Kain developers Crystal Dynamics to produce the single-player, story-based mode, while Psyonix worked independently on the multiplayer component. Legacy of Kain: Dead Sun's single-player campaign had been envisaged as an open world game – with puzzles and dungeons – rooted in the action-adventure genre. The concept of shifting between the Material and Spectral Realms was to return, alongside other links to prior titles in the series, and combat would be highly cinematic and violent, with its "huge" boss enemies demanding some puzzle-solving on the part of the player.[17]
Collecting information from his sources, Divine Shadow provided the following account:[17]
• "
A open-world action adventure with exploration and upgrade abilities comparable to Soul Reaver.
"
• "
Real-time shifting between Spectral and Material Realms. This shifting was fundamental to the gameplay and apparently very fluid. The role of the Spectral Realm was massive in the game.
"
• "
Very cinematic and violent combat. The bosses were "huge" and involving action and puzzles, often fought across multiple stages.
"
• "
Puzzles and "dungeons".
• "
Extremely story focussed.
"
• "
The gameplay structure was influenced by Soul Reaver and Zelda. ("think if HBO made Zelda")
"
• "
Some gameplay links to previous games.
"
Screenshots of combat depict Gein/Asher covered in differing amounts of Blood, using slam and grappling moves, and apparently gliding or flying to strike an enemy.[17]
Locations
Edit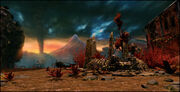 Legacy of Kain: Dead Sun's vision presented a futuristic era far removed from the corrupt wasteland seen in Legacy of Kain: Soul Reaver, with prolific vegetation and an ostensibly healthy ecology, active humans, and newly-introduced races. What this may have implied in terms of the post-Legacy of Kain: Defiance fate of Kain's empire, the Soul Reaver-era vampires, the vampire hunters of the City, and the Pillars of Nosgoth themselves, remained undisclosed.[17][19]
Other than the overarching setting of the Legacy of Kain series – Nosgoth itself – no locations familiar from previous games were assuredly known to have been planned for a return.[17]
References
Edit
↑ Legacy of Kain - Cancelled Sequel at NeoGAF (by Divine Shadow)
↑ 2.0 2.1 Legacy of Kain: The Dark Prophecy (cancelled sequel to Defiance) at Nosgothic Realm (by Divine Shadow)
↑ Legacy of Kain: The Dark Prophecy (Cancelled) at the Eidos Forums (by Divine Shadow)
↑ Crystal Dynamics On Making Lara Croft Downloadable at Siliconera (by Spencer Yip)
↑ Raziel & Kain Trailer at GameTrailers
↑ Crystal Dynamics. Lara Croft and the Guardian of Light. (Eidos Interactive). PlayStation 2. (August 18, 2010)
↑ Survey Says: New Legacy of Kain Game Coming? at Game Revolution (by Daniel Bischoff)
↑ Rumour: Crystal Dynamics on "Soul Reaver" reboot at VG247 (by Patrick Garratt)
↑ Legacy of Kain and Wolfenstein domains registered at VG247 (by Stephany Nunneley)
↑ 10.0 10.1 New Legacy of Kain project revealed - possible artwork spotted in portfolio at the Official Xbox Magazine (by Edwin Evans-Thirlwell)
↑ Square Enix Registers Possibly Legacy Of Kain Related Domain at the Eidos Forums (by Gorechild), post #32 (by Aevum)
↑ Square Enix Registers Possibly Legacy Of Kain Related Domain at the Eidos Forums (by Gorechild), post #34 (by Aevum)
↑ Newest AMD patch logs include War for Nosgoth *UPDATE* at The Ancient's Den (by Raina Audron)
↑ War for Nosgoth (Legacy of Kain) in AMD Drivers; "Nosgoth" in Steam DB (Psyonix Dev?) at NeoGAF (by Mama Robotnik)
↑ Nosgoth in active development, not 'traditional' Legacy of Kain game at VG247 (by Dave Cook)
↑ Nosgoth set in Legacy of Kain universe, but Tomb Raider dev Crystal Dynamics not involved at Eurogamer (by Wesley Yin-Poole)
↑ 17.00 17.01 17.02 17.03 17.04 17.05 17.06 17.07 17.08 17.09 17.10 17.11 17.12 17.13 17.14 17.15 17.16 17.17 17.18 17.19 17.20 17.21 17.22 17.23 17.24 17.25 17.26 17.27 17.28 17.29 17.30 17.31 17.32 17.33 17.34 17.35 The 10 Cancelled Legacy of Kains (Mama Robotnik Research Thread) at NeoGAF (by Mama Robotnik)
↑ 18.0 18.1 The 10 Cancelled Legacy of Kains (Mama Robotnik Research Thread) at NeoGAF (by Mama Robotnik), post #60 (by Mama Robotnik)
↑ 19.00 19.01 19.02 19.03 19.04 19.05 19.06 19.07 19.08 19.09 19.10 19.11 19.12 19.13 19.14 The 10 Cancelled Legacy of Kains (Mama Robotnik Research Thread) at NeoGAF (by Mama Robotnik), post #181 (by Monkeythumbz)
↑ 20.0 20.1 20.2 New Nosgoth Game in Development: Confirmed at the Eidos Forums (by Aevum), post #443 (by Monkeythumbz)
↑ 21.0 21.1 Square Enix acknowledges cancelled Legacy of Kain game Dead Sun at Eurogamer (by Robert Purchese)
↑ 22.0 22.1 12:07 AM - 20 Jun 13 at Twitter (by Ian Stubbington)
↑ 23.0 23.1 4:14 AM - 20 Jun 13 at Twitter (by Roberto Raio)
↑ 24.0 24.1 4:15 AM - 20 Jun 13 at Twitter (by Roberto Raio)
↑ 9:01 AM - 19 Jun 13 at Twitter (by Sam Barlow)
↑ 26.0 26.1 Nosgoth/War for Nosgoth at DCabDesign (by Azura Soul Reaver), post #3 (by Daniel Cabuco)
↑ 27.0 27.1 The 10 Cancelled Legacy of Kains (Mama Robotnik Research Thread) at NeoGAF (by Mama Robotnik), post #200 (by Monkeythumbz)
↑ 28.0 28.1 The 10 Cancelled Legacy of Kains (Mama Robotnik Research Thread) at NeoGAF (by Mama Robotnik), post #202 (by Monkeythumbz)
↑ 30.0 30.1 Dan Hitchen - Characters at Dan Hitchen - Characters (by Dan Hitchen)
↑ 12:40 AM - 12 Aug 13 at Twitter (by Alex)
↑ Concept Art, Storyboards and Character Design at Flipbook Studio
↑ 33.0 33.1 33.2 The 10 Cancelled Legacy of Kains at the Eidos Forums (by Divine Shadow), post #146 (by Aevum)
↑ 12:55 AM - 12 Aug 13 at Twitter (by Alex)
↑ 35.0 35.1 The 10 Cancelled Legacy of Kains at the Eidos Forums (by Divine Shadow), post #157 (by Bazielim)
↑ 36.0 36.1 A salute to unsung creative work at Flipbook Studio
↑ The 10 Cancelled Legacy of Kains at the Eidos Forums (by Divine Shadow), post #151 (by Aevum)
↑ 38.0 38.1 The 10 Cancelled Legacy of Kains at the Eidos Forums (by Divine Shadow), post #158 (by Paradoks)
↑ 39.0 39.1 The 10 Cancelled Legacy of Kains at the Eidos Forums (by Divine Shadow), post #163 (by Bazielim)
↑ 40.0 40.1 The 10 Cancelled Legacy of Kains at the Eidos Forums (by Divine Shadow), post #168 (by Aevum)
↑ 8:35 PM - 29 May 13 at Twitter (by Simon Templeman)
↑ If A New Legacy of Kain Happens, Voice Actor Simon Templeman Allegedly Won't be Involved at Gamenguide (by Ural Garrett)
↑ 43.0 43.1 Richard Buxton, 2011, storyboard/concept artist, Legacy of Kain promo, Passion Pictures at Film and TV Pro
↑ New Nosgoth Game in Development: Confirmed at the Eidos Forums (by Aevum), post #216 (by Monkeythumbz)
Community content is available under
CC-BY-SA
unless otherwise noted.