"These statues were singularly inanimate. I knew better than to assume they would always remain so."

―Kain
Guardian Constructs were an enemy class encountered in Legacy of Kain: Defiance. The Constructs were classified along with Vampire golems in the Statues enemy grouping - originating as ordinary statues, reanimated by ancient vampire magic and tasked with protecting important artifacts or places from intruders.
The Guardian Constructs were a class of enemies encountered in Legacy of Kain: Defiance and were the more advanced of the Statues enemies classification. They were enchanted statue warriors devised by the Ancient vampires to defend their secrets against any unwanted visitors that would come to life when specified trigger conditions were met - such as a person entering a room, an object placed or removed, or a mechanism activated - and would attack until they were destroyed.[Defiance][Defiance strategy guide]
Like the Vampire golems the constructs visually appeared to be stone statues intended to resemble Ancient vampires and bearing many of the same physical features including feathered wings sprouting from their back tridactyl claws on their hands and feet. Compared to their golem counterparts they appeared to be much heavier and bulkier with more angular features. Instead of a tunic they wore a kind of armor, sported a crowned forehead, pointed ears and spiked shoulders. Some variants had red glowing eyes and had flames sprouting from their heads, shoulders and swords.[Defiance][Defiance strategy guide]
The Guardian Constructs were first encountered in the chapter Explore the Citadel as Kain explored the Vampire Citadel in the Nosgoth's early history and found his way to the Water forge. Initially appearing as static statues, Kain's encounters with the Vampire golems had already primed him for the possibility that they would move. Shortly after collecting the Lightning fragment of the Balance Emblem in the forge he would be confronted by his first active construct and thereafter he and Raziel would regularly be ambushed by them - with them usually placed to defend Warp gates or items. As with Vampire golems they were generally static until activated by a trigger event.[Defiance][Defiance/7][Defiance strategy guide]
Like their Golem counterparts the Constructs usually moved quite slowly and attacked with a number of strike and lunging attacks, but they also frequently used special attacks for both defensive and offensive purposes:[Defiance][Defiance strategy guide]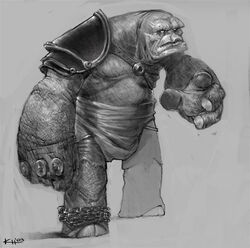 Community content is available under
CC-BY-SA
unless otherwise noted.