Glyph Seals, also known as Telekinesis (TK) Switches, were wall mounted devices that controlled and activated several Glyph magic applications. They were seen throughout Blood Omen 2, where Kain used the Dark Gift Telekinesis to activate them.
Kain first encountered a Glyph Seal when he visited the Seer in her Seer's Cottage in Chapter 7:The Canyons. The Seer directed Kain to the Device, but first showed him an image of a Glyph Seal, telling Kain that he would see the symbol several times and the first symbol he saw would mark the location of the Device.[1]
The Seer allowed Kain to drink her Blood and gain the Dark Gift Telekinesis before teleporting him to the Device's enclosure.[2] The first Glyph Seal, once activated, removed the Device's fake Human facade, uncovering the Hylden architecture underneath and allowing Kain entry to the Device.[3][Blood Omen 2]
Throughout the remaining levels, Kain found and activated many Glyph Seals, they were often used as an ingredient of puzzles; having functions such as opening doors and powering Glyph magic networks. Typically when activated the four 'prongs' of the seals would retract and the circular design would rotate 180 degrees before both parts returned to their original position and their mechanisms were engaged[Blood Omen 2].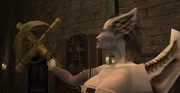 Notes
[
]
the Seer claims that no Human can use these devices,[1] despite several Humans being shown through the series with telekinesis-like powers, though none of these is alive in the era following Blood Omen.
Glyph Seals are presumably of Hylden origin, as they are seen throughout the Device and Hylden City and share the 'green glow' that is often indicative of Hylden involvement. The Seals presence in the Eternal Prison is more problematic to explain, as the origins of the Prison are not elaborated upon[Blood Omen 2].
The Glyph Seals are only called a "sign"[1] or a "symbol"[2] by the Seer. They are simply called "Seals" in the in-game prompt (given outside the Device in Chapter 7)[3] and "Glyph Seals"[4] in the Prima Guide; some sources name them as "TK Switch[es]"[5]
In Defiance, a similar mechanism, named as "TK switches" are used to much the same effect, though these are differently designed and likely to have a different origin than the Glyph seals seen in Blood Omen 2[Defiance].
References
[
]