The Blood Omen: Legacy of Kain alpha was the unpublished July 12, 1996 build of Blood Omen. A group of Legacy of Kain fans, including the administrators of The Lost Worlds, the Legacy of Kain Wiki, and The Ancient's Den, collectively revealed it to the public in December 2018.
The alpha exhibits many substantial differences compared to both the Blood Omen beta and the retail version of the game, including an early concept of the world map of Nosgoth and corresponding Overland; preliminary or cut iterations of hundreds of game maps; several additional dialogues and vista points; prototypical implementation of mechanics such as magic energy; and two cut spells.
Development
Edit
Ben Lincoln of The Lost Worlds obtained the alpha in summer 2018 from an anonymous source, and publicized it on December 1, in conjunction with the administrators of the Legacy of Kain Wiki and Raina Audron of The Ancient's Den.[1][2][3][4] It was revealed alongside the Blood Omen beta, and several prerelease versions of Legacy of Kain: Soul Reaver.[2] Gh0stBlade, Eoghan, Andrew, Kevin, and Mama Robotnik also received credit for their involvement in retrieving the builds.[5]
Characters
Edit
Locations
Edit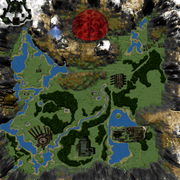 Other locations
Edit
Walkthrough
Edit
"Reputed to have been ripped from the chest of the greatest vampire to have ever existed, Janos Audron, the Heart of Darkness restores vampiric unlife. It can be used over and over again, but always consumes magical energy from the one who uses it. Life is precious, Janos discovered – as it was torn throbbing and bleeding from his own body."
Power-ups
Edit
Cut items
Edit
Abilities
Edit
References
Edit
Concepts
Kain II · Shifter
Prototypes
Jan 23, 1999 · Feb 4, 1999 · Feb 16, 1999 · May 12, 1999 · Jun 1, 1999 · Jun 10, 1999 · Jun 18, 1999 · Jun 28, 1999 · Jul 2, 1999 · Jul 14, 1999 · Jan 18, 2000
Community content is available under
CC-BY-SA
unless otherwise noted.